Extraterrestrial Geocaching for Geocaches!
Brought to you by Clay4 &

whtwolfden
The last invasion was compromised and defeated. But now heavy alien activity has once again been noticed in the skies over a remote area of the Nevada desert. These aliens love geocaching are determined to provide caches for humankind to enjoy.
It is reported that there are no less than 1500 caches stretching across the Extraterrestrial Highway and beyond! All the caches in this series are on the north side of the road. So for safety reasons, this series should be done going north bound (from Ash Springs towards Warm Springs) start with 0001 and work your way to 1500.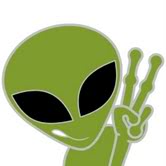 Some important things to recognize when venturing out to do this series:
Start with low numbered caches & work towards higher numbered caches.
Make sure you have plenty of water.
Cell reception out here is not great so don't count on having phone service.
Make sure someone knows where you are heading.
Make sure you keep a full tank of gas (closest gas stations are Ash Springs, Alamo and Tonopah).
Make sure you have a good spare tire.
Be careful! This road isn't very busy but still well traveled. Watch for and yield to oncoming traffic.
Pull completely off the roadway. (All tires to the right of the white line)
Driving with your Hazard Lights on will help others see you.
Probably not a good series to have small kids or pets roaming around.
This area is OPEN RANGE, there are cows on the road and they have the right of way.*If traveling at night, watch your speed and don't over do it.
Have fun!
CLICK HERE to visit the page of Clay4 & whtwolfden's "additional E.T. Highway info.
such as history, lodging, etc."